Hi,
I'm a returning TW user after a decade long hiatus (and being a pretty active user form 2008 to 2010). In the end of 2020 and all 2021 I had the pleasure of reencountering with this tool and community. Thanks for keeping both vibrant and evolving.
I have been building TiddlyWikiPharo, a tool that models TW inside Pharo and Glamorous Toolkit (GT) computing environments. It provides a way to build, visualize and navigate tiddlers, so TW can be our "(web) publishing environment" and GT/Pharo can be our "(desktop) computing environment" in the Grafoscopio community.
Here, for example, you can see and screenshot of a TW used for our TTRPG group, as detailed in the conversation with @JanJo here: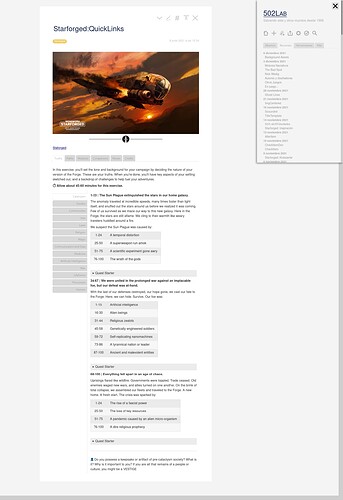 And here you can see the same wiki as a data narrative and visualization, inside GT:

TW and Pharo/GT share the fact of being live coding self-referential meta-systems, that can be changed live, while the system is running and inside the system itself: when you want to change TW, you launch it and use a uniform concept across all the system (the "tiddler") to enrich/change it; when you want to change GT/Pharo you launch it and use the the uniform concept of "object" in the same way. I'm trying to bridge both experiences/environments. Part of such bridging is that graphics made on GT could be exported on Echarts. Both are malleable systems with rich customizing experiences and we, at the Grafoscopio community are building a critical code/data literacy curriculum that starts in TW and bridge it with GT and back. Our curriculum uses TW's Projectify for project based learning and for what we have called apprentice notebooks. Facilitators and learners use the same infrastructure and tools (TW + Fossil SCM + GT), to build a peer to peer learning environment empowered by what I have called pocket infrastructures. By simplifying infrastructure we amplify/diversify participation in learning and civic endeavors.
I'm now on vacation (that's why I had finally the time to connect back with the TW community and I hope to remain so), so code will be slow. But hopefully some projects this year will make the bridge more explicit. I'll keep you posted.