The sales pitch
Are you tired of having to manually style your todo items the same way to have a semblance of consistency? Do you hate the scary single text input making you question your life choices? Would you like more color in your life?
Look no more, for Task List is the ultimate solution to your problems!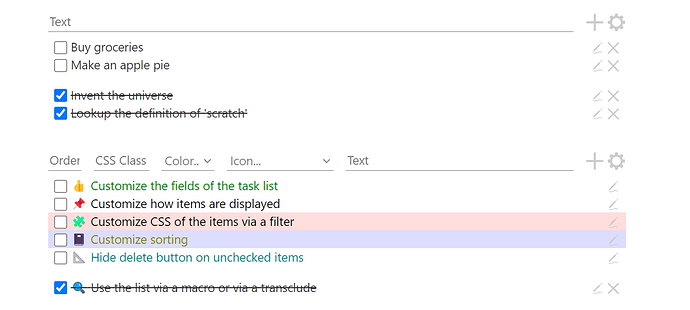 With the ability to not do anything fancy or to customize almost any aspect anyone responsible would need, Task List delivers with style. Wait no more, call Github and if you call now you'll also get a copy of the documentation for free!
Documentation and demo: Task List
And a bit more seriously
Task List is a todo plugin to end all other todo plugins. You can customize the fields available for each item, how the items is displayed, define custom CSS class for each item, define your own sorting and more.
The documentation includes an actual real-life example of how I use this plugin in my day-to-day job.
[Documentation & Demo] — [Source Code]
Some quick history
Originally this was just a simple macro that had the fields definitions passed as an argument looking like this link:5:Text|text:15:Text. Field definitions were separated by the pipe symbol. At some point I wanted to add support for Select/Dropdown fields and as it grew in complexity I wanted to turn this into a fully-fledged plugin. Lo and behold I rewrote the whole thing to be completely different.