https://groups.google.com/g/tiddlywiki/c/NUs1vO7CSxk/m/khdb1egzAwAJ
@saqimtiaz It was one year before that you had given me some suggestions regarding the Notation editor. Although I had checked Floats and Nlite editor at that time, I didn't had the sufficient knowledge in TW to modify it for my purpose at that time. After that I had tried to create different versions of modal based tiddler search and editors by studying others peoples implementations with relatively good results. Today I tried to modify some parts of the Nlite editor to my liking and got this.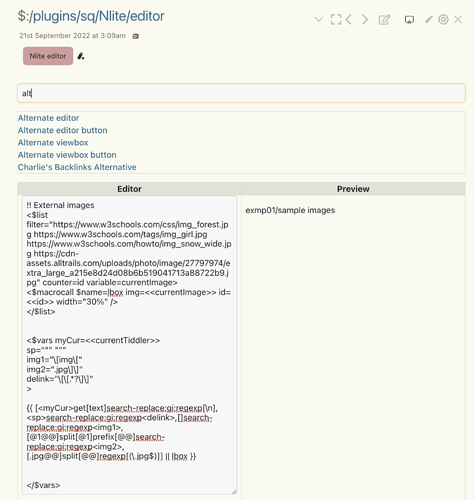 I am quite satisfied with it, except that the text field is not seen in the preview on the right side. Instead only the tiddler title is displayed in the Preview. Can you suggest where I am going wrong? This is the demo wiki link - My TiddlyWiki — a non-linear personal web notebook
Also is there any way to highlight the searched word in the editor and in the search results?